'Aliens: Colonial Marines' Delay Denied by Gearbox Software
Randy Pitchford has come forward to deny the statements made online, stating that development of 'Colonial Marines' isn't taking a backseat to any other properties.
You Are Reading :Aliens Colonial Marines Delay Denied by Gearbox Software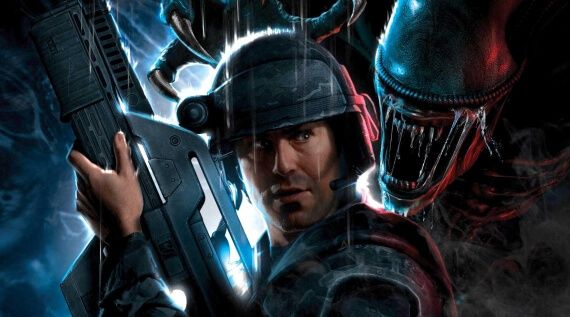 Oh how the fates have changed for those desiring a chance to go toe-to-toe with one of science fiction's deadliest creatures. Only a day after news hit the NeoGAF forums that Aliens: Colonial Marines had been delayed into 2012, Gearbox Software's Randy Pitchford is denying the idea completely.
Pitchford wouldn't clarify any release date or production stages the game is currently at, but instructed the masses to take a deep breath, as he had definitely not told anyone that the game was taking a backseat to the studio's other properties.
The original posting on NeoGAF gave little information, simply stating that in an interview with Gearbox head Pitchford, one of the details that came up was that Aliens: Colonial Marines was being delayed out of 2011. Whether or not that ends up being the case, Pitchford assured Eurogamer that any decision on the game's production would be made publicly, and that things are still on track with Colonial Marines:
"I haven't seen the issue of Edge [sic] that the NeoGAF story is referencing or what was printed, but I am certain that I haven't discussed anything specific regarding Aliens: Colonial Marines with anyone beyond emphasising how passionate I am about the title and how committed my studio and I are to making it great.
"It looks to me like whomever made that post on NeoGAF made an interpretation that could be misleading or inaccurate.
"I am excited that there is so much interest in the game that stories like this tend to pop up literally out of nowhere and from nothing, and I am looking forward to talking more about Aliens: Colonial Marines very soon so that speculation and arbitrariness can be replaced with tangible, reliable and accurate information."
Pitchford has the right to be excited, since gamers are clearly still feeling passionately about the game, even though it's been a long time since any promising information on an Aliens game's production has been released. As a game developer or publisher, there are few things better than having several promising games on the go.
Borderlands surprised RPG fans with how new and well-developed an experience it offered, and the DLC has only added to that. Duke Nukem Forever has people talking, and will likely make headlines regardless of how good the final product turns out to be. And now just a whisper of Aliens being delayed shows that the fanbase is definitely still intact.
So this has actually been good news for fans of Aliens, since a misinterpretation of an interview has actually gotten the head of Gearbox Software to confirm that speculation about Colonial Marines will soon end, and the game is anything but forgotten at this point. Not exactly a confirmation of a 2011 release, but promising nonetheless.
We'll keep you posted on all the Aliens: Colonial Marines news as it arises, hopefully sooner rather than later.
Source: Eurogamer
Link Source : https://gamerant.com/aliens-colonial-marines-delay-denied-gearbox/