'Killing Floor' Twisted Christmas Event Begins December 14
2009's Killing Floor is holding a grand event, releasing a new map with reskinned enemies, a new difficulty level and more. Have a Twisted Christmas, from Tripwire.
You Are Reading :Killing Floor Twisted Christmas Event Begins December 14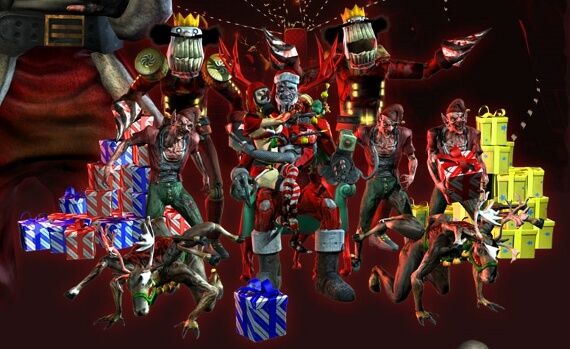 Killing Floor, the underrated cooperative first person shooter in the same vein as Left 4 Dead, has prepared a Christmas update the likes of which have never been seen. This 'Twisted Chrismas' event includes a new map, populated by completely reskinned Christmas monsters; the map is called Santa's Evil Lair. Also included in the patch are double the amount of previous achievements (including 13 Christmas themed ones), an unlockable "Baddest Santa" playable character, and a few perks for Team Fortress 2 players. Oh, and it's all for free if you own the game.
Still unpersuaded? Check out this grindhouse style trailer, showing off the new map and all of Santa's friendly neighbors:
httpv://www.youtube.com/watch?v=lXzrOAj-EAs
Hardcore Killing Floor fans have a present under the tree, as well: Hell on Earth, an all new difficulty designed for masochists. Or, for Team Fortress 2/Killing Floor fans, there are a couple of crossover unlockables available. Just for owning and playing each game, players unlock the red or blue Pyro as a playable character in Killing Floor. Additionally, Mr. Foster's gas mask/business tie combo will be available to equip in Team Fortress 2.
Twisted Christmas runs from December 14 through January 4, and in order to acquire all of these exciting new toys Killing Floor has to be bought and played during this time. It's currently available for $19.99, but keep in mind Steam is going through a 14 day sale right now, and will likely have their post-Christmas blowout afterwords. Expect a hefty Killing Floor price drop somewhere in there.
If there wasn't enough to discuss already, a new Killing zone DLC pack was also announced: 'London's Fines'. The pack includes four new playable characters: Reverend Alberts of the Church in West London, soccer hooligans "Chopper" Harris and Kevo the Chav, and 5th Baronet of Warbury Captain Sir Richard Wiggins. Whoever these oddballs are, they're certain kill as well as anyone. Killing Floor character packs typically run at $1.99 over Steam.
It's hard not to admit how impressive this event is. Killing Floor is well over a year old now, and by all means it has done quite well. With each Steam sale, Killing Floor always makes a… err, killing. PC gamers love cooperative games and Killing Floor is a great one. Now though, adding a new difficulty level for pros, a new map with completely reskinned enemies and all sorts of achievements and unlockables on top of it? Bravo, Tripwire, can't wait to see what you've got up your sleeve for us next.
Interested in picking up this great cooperative shooter for the holidays, Ranters? Or, if you've already bought it, excited to try out the new holiday map with your friends?
Killing Floor is now available via Steam for both the PC and Mac. The Twisted Christmas event begins on December 14 and runs through January 4.
For the full details, check out the Killing Floor website.
Link Source : https://gamerant.com/killing-floor-twisted-christmas-team-fortress-2/